Alcoa LED Signs
VIEW GALLERY
With how competitive industries can get, it is crucial that you have all tools for your brand which will help it compete and stay relevant. These tools can range from printed materials that can be distributed to your potential audience and current clients to eye-catching business signs installed in key locations to achieve certain business goals. If you're considering business signs for your brand, they must be eye-catching and perfectly customized to help you smash your business goals and promote your brand well.
Out of all the business signs you can invest in for your brand, LED signs will give you flexibility and visibility no matter where you use them. LED signs are lighted, allowing people to see them at any time while using only a little electricity, thanks to the LED bulbs used to illuminate them. Since it uses LED bulbs, it does not require much maintenance to use, and if there is any damage to the signs, they can be replaced easily. In terms of flexibility, it can display any content, and the LED lights can be customized to show your brand colors.
Tennessee Sign Company is the best Alcoa, TN sign company that offers customers a stress-free experience when it comes to getting the best business signs for their use. For custom Alcoa LED signs, our sign experts will take their time to know what you are looking for so we can make your signs perfectly tailored to your brand, effective in helping you with your business goals wherever you use them.
Call Tennessee Sign Company at (865) 234-9172 for your Free Consultation with a Alcoa LED Sign expert!
Indoor LED Signs
LED signs can also be used indoors as a wayfinding or identification sign, as well as an additional wall display.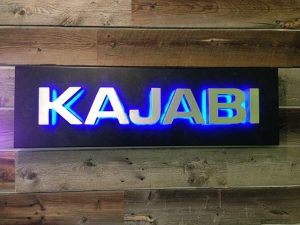 When we make these indoor LED signs, we will consider what application you have intended for these signs and your business' branding.
Our team will determine the best location for these LED signs so people can immediately see them and let them know who you are. We can also customize how these signs promote your content or brand to reach certain audiences who are not usually interested in viewing signs and displays.
Programmable LED Message Centers
If you truly want to have a flexible LED sign that you can use for any event or promotional activity, you should definitely invest in a programmable LED message center for your brand.
Programmable LED message centers can be formatted to suit any branding and show text, video, and photo content. It is available as a standalone sign or as a part of one of our business signs. Simply tell our team what you want your programmable LED message centers to display, and we will not only make sure the external body is what you requested, but it will display your content no matter what format it may be.
Your Alcoa LED signs will be installed by one of our experienced installers who can hook up the electrical components of your signs to your electric lines safely. They will also make sure they're installed in the best location so they will catch the attention of the right audience at any given time. We will also teach you how to update the content of your message center.
Full-Service Lighted Sign Company
Custom Alcoa LED signs are not the only signs we can make at Tennessee Sign Company. We also do other types of business signs that can be used for any application and customized to suit any branding or content.
Once clients reach out to us, we will take our time to work on the sign's design with them so that they will get the signs they really like and it has all the features they are looking for. Our sign experts will use their experience and skills to get everything done as stress-free as possible and make sure it will work perfectly to achieve your goals.
When we make custom signs for our clients, we do every step in-house. This guarantees that the sign will come out perfectly, like in the draft design, and it is made with care. We use industry-grade equipment and materials to build each sign that is requested from us, and our team also has a reliable team of installers to make sure it is installed in the right place where it will be seen by all. Our team can also do repair and maintenance work to enable your signs to work continuously for your business.
Whether you have a design in mind for your LED signs or you want us to use an existing one to upgrade it, let us know. We will provide you with recommendations and even visit your site to see how it can be improved further or where to install it for the most impact. If you have other requests, don't hesitate to tell our team so you can get the right sign for your business.
Free LED Sign Consultation
If you want something that will truly catch your target audience's attention and pique their curiosity, you definitely need a business sign that will do just that. It must also be usable at any given time, and if you plan to use it indoors, it should be easy to personalize so people will immediately notice it.
At Tennessee Sign Company, you can work with an experienced sign expert who can help you design the perfect LED signs to promote your brand and make it stand out from the crowd. Once we have the design to use, you don't have to worry about the rest because we will manufacture it using the right materials and get it installed in the best spot so people can immediately see it. We guarantee that you will get the impressions you need to build your brand and make sure that people consider you a brand they can trust.
Contact us today through our hotline to learn more about LED signs and why we are the team you can trust for your signage needs.
Call Tennessee Sign Company at (865) 234-9172 for your Free Consultation with a Alcoa LED Sign expert!